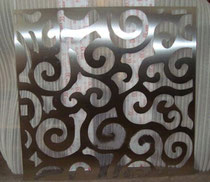 Laser cutting is one suitable of technology for stainless steel profiling. it can produce small holes, precision details and complex outlines on sheets or panels.
Stainless steel is good material to make cutting metal art work, machining spare parts and decorative 
metal sceens, main Alloys: 304/304L; 316/316L; 420,430.
Finishing: Brushed, mirrored, 2B type.
Cutting Thickness:0.1mm-12mm
We need customer's drawing in format DXF and DWG (auto cad) for quoting and producing.
If you just have sketches or electronic files, it is also ok, our designer will confirm all details to draw for you.